It's Friday!!! Yay!! Today I'm linking up with Amber over at
My Three Bittles
to bring you 52 weeks of kindness. I must admit, this is pretty impressive! She has been going at this 52 weeks since the beginning of 2013!! Check out all her kindness!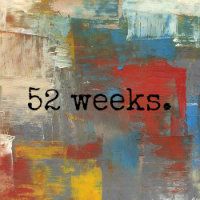 My week of kindness actually dealt with Amber herself. I've known Amber for years so this wasn't a hard decision for me. We used to waitress together, she was the niece of my boss.
She shouted out to the facebook and twitter world about the below little pup! Her name is Maggie, she had been at the shelter for almost 2 months and was getting ready to be put down. Adoption fees were $126 and Amber just did not have it. But it was in her heart to save this little puppy! I told myself "She will get the money, it's okay". The more and more I thought about it, I wouldn't be able to forgive myself if she didn't get the money for this puppy. So I was ready to give her the full $126 if she needed it (after a talk with the hubs of course). I facebooked her, 30 minutes went by, no response. I then replied to a twitter post she made. Then I texted her cousin and was like "I need her number NOW". I called Amber, left her a message... in the meantime she was selling something and left her phone charging. ** If Amber didn't know me, she'd probably think I was a freak trying to get ahold of her through numerous sources. LOL **
We chatted on facebook and she said she needed $30-$40, she wasn't sure. I told her whatever it was, I'm giving it to her. At first she declined, she felt bad for taking that much. After a little friendly bickering back and forth, she caved! YES!!! I sent her $41 through paypal and it never felt so good!!!

Not all kindness needs to be in monetary value, just simply opening the door for someone or saying "Bless You" to a complete stranger walking down the aisle at Walmart when they sneeze (I did that this weekend, sadly she didn't say thank you).
I'm hoping this post will bring a little smile on your face!
And FYI... Amber goes to pick up the puppy today!!!!!