Welcome to another week of joining Angela and I on our virtual couch!
Grab a button and link up! We'd love to hear your thoughts on this weeks TV!
Wanna participate?
2. Link up using our button, or link back to us in your post
3. Check out other's posts and leave a comment. Who doesn't love comments?!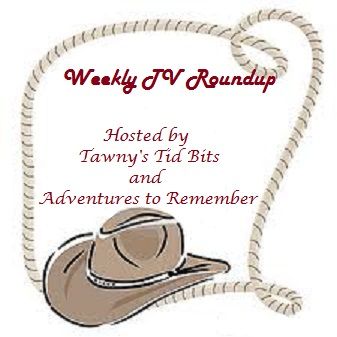 Army Wives - aired 6/2/13 - Damaged
I know I'm a little behind on saying this, but I'm glad they renewed this. Not sure if they will for next season, but we will see.
So, where are we. Patrick saves Gloria from what could have been a disaster. I'm not quite sure who I want to see her with - Patrick or Hector. I'm quite torn between them.
And poor Holly, she is clueless as to what is happening to Tim. I hope he can get help.
Michael and Kat..... thoughts there? You can tell they like each other. And I believe Denise picked up on that too. I know for a fact she won't like it because Claudia Joy was her BFF.
Not much to say about this episode, but I do believe the finale is this Sunday.
Bachelorette - aired 6/3/13
My all time favorite time of the year. I started watching when it was Jason's season and I've been glued. And yes, I know all the spoilers from
Reality Steve
. I promise I won't mention anything!
Let's get to it: So much boy drama this episode! Seriously, I thought the females were bad! First and foremost... getting any time with her is better than none. So stealing her away is typical, get over it! Why does this seem so odd to everyone, have you never seen the show?
Brooks gets the first date, he is a gentleman. He opened her door, not only once, but twice (that we seen) and he ran with the whole wedding thing. I'm not a fan of long hair, but I do like him. And didn't they already do the whole dinner on a bridge with another season? Ashley and JP, I think? No?
The group date video I had seen already because it got leaked. It's pretty funny how they mock previous seasons. My favorite part was the kid and the dad and the Mesnick joke. And poor Brandon, how embarrassing was his part! LOL!
When Brandon was spying on Ben's kiss, or at least that's what it looked like, it was kinda awkward, I started liking him less, he whined alot. But next week is another story, I'll probably like him.
For instance, I didn't like Zak W last week (the one with no shirt). He just seem so full of himself. Not to mention he did not hug her when he exited the limo, just a hand shake! But he got brownie points for doing the whole antique journal thing. Maybe he does have a heart.
Bryden's date was sweet, loved the dinner under the lights/tree. And of course the oh so awkward moment before the kiss. She did good with "Kiss me already". I think it was needed. But to me, that means Bryden's in it for the right reasons, simply because he was scared, he didn't wanna just HOP in there. You feel the same way?
So for the drama, what's up with Mikey being like the older protective brother over Michael. And what's up with the Nick M guy there, he seemed more like a body guard to me. Dudes, just leave Ben alone. He is getting time with her and that's what all ya'll need to be doing. But then of course, they mention the whole bar thing... that he made comments about that. I'm curious as to how that pans out in future episodes. Is he there for the right reasons or to promote his bar?
As for Des, super cute in whatever she wears but her hair kills me. I guess because I'm not a part down the middle gal, I'm more of a side one. Ya know? I do love her hair, just not the part in it. :)
And back to the Nick M... he said he was surprised by no rose. Really? I'm lost because I didn't see that you had any time with her. The only part was you being the body guard between the bro smack talk.
Sometimes ABC doesn't edit quite right, LOL!
Anyway, hope to see ya'll for next weeks ROUNDUP!