First and foremost, I have to admit an addiction! I love swaps! There I said it!
If you've never done one, I suggest to try it! Super fun and you meet some pretty amazing people.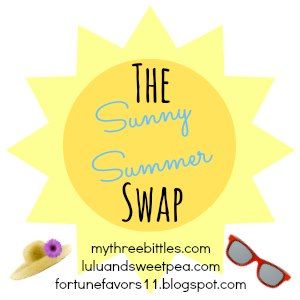 This is my 3rd swap and my lovely partner is Elise over at
Random Musings
!
Elise is a recent college grad (May) so go congratulate her. Getting through college is pretty rough! :)
On to the FUN part! My box!
I told my husband to expect it. He called to tell me I got it. When I got home, I went straight for the box. I started opening it up and pulled like what felt like 50 items out! He is just sitting there smiling the whole time, "Who is that from?". Oh hubs... it's a swap! :) He didn't mail my box out this time like he has in the past, I did it, so he wasn't in the loop.
My box contained:
Sticky notes come into use! Especially at work, the men hate the BRIGHT ones... perfect, I have them!
Gum, my husband snatched up so quickly! I can't chew gum due to my TMJ, but my hubs thanks you Elise!
Sunscreen, you can never have too much. Seriously, one day you have 10 bottles, then you're down to NONE.
Body lotion, Pear and Blossom Scented, I'm gonna be smelling good!
Hair ties, not to mention, the best available. They are clasp free which is what I use. I hate the clasps, it breaks your hair. So these are quite perfect!
Sun glasses, and BROWN! I love brown! And they are different from any other ones I have, so I can't wait to wear these. I like different!
Nail polish, which I used to NEVER wear. But now I have this amazing collection and wear polish all the time!
Sandals, I usually wear flip flops but have been trying to buy the stylish ones. I've got 1 pair that aren't flip flops and now Elise has given me my 2nd! I actually realized how big my feet look when I pulled the shoes outta the box. I knew for sure they wouldn't fit, but they did, like a glove! :)
All in all I loved EVERYTHING! And I hope Elise loved hers! :)
Happy Monday!