Welcome to another week of joining Angela and I on our virtual couch!
Grab a button and link up! We'd love to hear your thoughts on this weeks TV!
Wanna participate?
2. Link up using our button, or link back to us in your post
3. Check out other's posts and leave a comment. Who doesn't love comments?!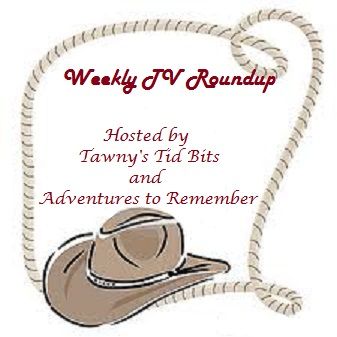 Bachelor Bloopers
I have to admit, this wasn't as funny as most! The 5 minutes that their air during the finale were better than this full hour. They replayed the majority of ones already aired. So, personally, I really don't have much to say about this. I was really disappointed!
Oh, and you can tell how much the show has evolved from the beginning.. I mean, look at the background, video quality, and clothes (especially Chris Harrison).
Nashville - aired 5/22/13 - I'll Never Get Out of This World Alive
Pretty interested finale! So many things happened! Gunnars proposal to Scarlett. Deacon drinking again after 13 years! Deacon and Rayna crash! Teddy's thing with the law! Peggy pregnant!
First thing first.... looks like Dante wasn't really a sober companion, just someone out looking to screw someone over, he hit the motherload here. Well not really, because he never got his money.
Did you find yourself wanting to know who won the CMA's? I am super happy that Juliette won though. She deserved it, not because of what she went through!
Ugh, and Deacon, Deacon, Deacon, shame.... 13 years down the drain. I knew when he told Coleman he'd be at the meeting that he wasn't gonna be there. But I didn't expect him to wash down some pills with alcohol!
Also, did you not think that Juliette knew that Jolene did what she did on purpose (so she wouldn't get charged for murder). Seems that she didn't put 2 and 2 together when Jolene called her before she OD.
And I really hope that Glenn comes back on as her manager, I really liked him!!!
I might have overlooked something here, but when Will was at the bar with that chick and that dude walked by did it not look like Juliette's ex husband? Was there a similarity? Or was I just seeing wrong? Wonder what that was all about.
Good news though, all these questions will be answered soon! A few weeks ago Jonathan Jackson said at the Grand Ole Opry that they were renewed for a 2nd season! Also, if your in Nashville, they have open casting calls ALL the time! The check out the
Nashville Extras
facebook page!
P.S. I religiously watch the Bachelor/ette but did not have a chance to last night. Boo, I know! :(