It's Sunday!
Calling for some killer weather tonight and tomorrow, but sadly no snow, just negative temps!
I WISH it would dump loads of snow, but doubt it. They keep changing the amount we are going to get from 2-4 inches to just a dusting. Sad, right?
Bad news for ya'll, we are going to retire this link up. People just aren't linking up or interested. I really really wish it would have worked out, but you win some and you lose some, it's ok. :)
So, if you've been meaning to link up, now is the time! Show us your Instagram favorites from the past week!
If you'd like to join us just simply grab the below button and add it to your post. Be sure to follow
Neri
and
I
on our Instagram too!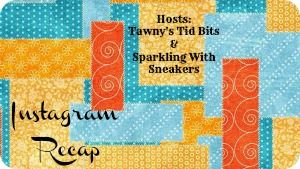 <div align="center"><a href=" http://www.tawnystidbits.blogspot.com/search/label/Insta-Recap%20of%20My%20Instagram" title="Tawny's Tid Bits"><img src="http://i1357.photobucket.com/albums/q748/tyeager2/InstagramRecap300x169_zpsbda92493.jpg" alt="Tawny's Tid Bits" style="border:none;" /></a></div>