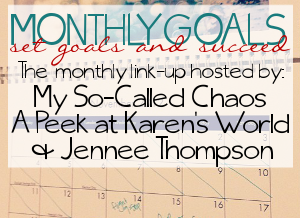 Do I dare set goals for myself for the hectic month of December?
I'm going to try!
I'd like to think I'd succeed on all, but these days I'm not sure of a lot of things.
December Goals
Get in the Christmas Spirit (it's really hard for me right now).

Run/workout at least twice a week.

New (2nd) job has sales goals each day worked, meet those.

Organize the computer room.
Finish 2014 calendar (on time for Christmas gift).
Find a new recipe and prepare it.
Try something new (food).
Ok, so that should get me started! Wish me luck that before the month of December ends I still have hair!
Don't forget to check out the
12 Days of DIY Ornaments
! And stay tuned for an AMAZING recap on the 13th!