I hope September is treating ya'll well!
I'm loving all my new Instagram followers. I was a co-host for the
Instagram Blog Hop
last week and have met some pretty amazing bloggers. If you ever want to co-host get ahold of the hosts for that Blog Hop, you won't be sorry!
With that being said, here is to another week of a recap of my Instagram!
Although it is my recap, I won't be recapping this week. I'm currently in TX at a wedding right now. But you can still see what I'm up to, just follow me on Instagram! I'll be back next week, so no worries. I can't wait to see what ya'll have recapped for the world to see!
If you'd like to join in on the link up, it's simple:
Follow me here or Blog lovin and on Instagram
Link up your post and make sure you add the button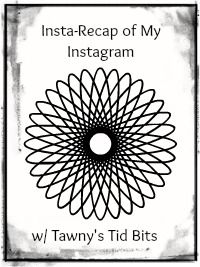 <div align="center"><a href=" http://www.tawnystidbits.blogspot.com/2013/05/insta-recap-of-my-instagram-link-up.html" title="Tawny's Tid Bits"><img src="http://i1357.photobucket.com/albums/q748/tyeager2/200X267RecapButton_zps44117ede.jpg" alt="Tawny's Tid Bits" style="border:none;" /></a></div>