Welcome! Welcome!
It's November! Which brings more colors from the leaves, cooler weather, Thanksgiving, and BLACK FRIDAY!
Yes, I'm one of those people. I've never really shopped for a BIG item, it's just fun! It's not as bad as people think it is, you just need to have patience.
My Three Bittles
is joining me again for another month of Linkup Your Linkup!
When I first thought of this idea I thought it would GET alot of traffic, but maybe I was just a little too excited, which is VERY typical of me!
We are gonna see how well this month goes before we make any decisions on what we ultimately decide.
Oh, and by the way. I have a DIY Ornament swap happening. You can learn more about it
here
. I would love to see you!
Same rules apply. First you will follow
My Three Bittles
and
Tawny's Tid Bits
. It can be bloglovin or GFC, whichever you prefer! Feel free to grab a button and showcase it on your side bar if you link up. Next, if you are currently a host or co host of a link up (or know of a good one), add it to the inlinkz options below sorted by day. Please make sure the URL goes directly to the link up and not your home page of your blog. Also, please make sure it is a legit link up, we will be checking them. After the week is up, the link up will close and from there we will add your button
here
where everyone can see.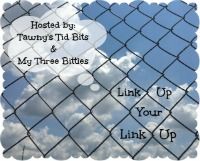 <div align="center"><a href=" http://tawnystidbits.blogspot.com/p/link-ups.html " title="Tawny's Tid Bits"><img src=" http://i1357.photobucket.com/albums/q748/tyeager2/200X161Button_zps2cefd2eb.jpg" alt="Tawny's Tid Bits" style="border:none;" /></a></div>